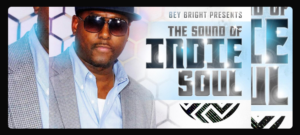 Entrepreneur. He is CEO of Bright Vision Entertainment. Bey Bright has incorporated
his business acumen, years of experience and knowledge in the entertainment industry to pay it forward in an attempt to help people maximize the value in themselves and in their relationships so they may live their lives to the fullest. Bey has been a guest speaker on numerous radio & TV shows across the United States and abroad. He has shared his expertise and insights on male/female relationships on various panels and urban radio programs including The Audrey Chapman Show, The Congressional Black Caucus Author's Pavilion, Ubiquitous Beauty & Health Expo, Pillow Talk with Angela Stribling WHUR FM,The Daily Drum with Harold Fisher WHUR FM, He Said She Said-WHUR and the nationally syndicated "The Bev Smith Show"on Radio One to name a few.
Always inspired to teach, Bey was the first independent artist to teach an online class through New York City's prestigious Learning Annex. His class How To Market, Sell & Distribute Music Independently instructed hundreds of people looking to enter the music business as an independent entity. In the mid nineties, Bey worked for Puff Daddy & his Bad Boy Entertainment label as a street team coordinator before venturing out to pursue his own entrepreneurial endeavors. While at Bad Boy, he helped to promote records for Faith Evans, 112, Total, Craig Mack and The Notorious BIG. Over the years, Bey has written, produced and released several albums in the R&B/Hip Hop genres under his Bright Vision Entertainment label. His independent releases "It's a Nu Dae" by Tia Dae, along with The Sound of Indie Soul and Nu Indie Soul Vol.1-3 by Bey Bright have been well received on a global level by music lovers worldwide. Bey's music can be heard on top radio & streaming outlets such as MTV, BET, BBC Radio, Google Play, I Heart Radio, Pandora, Sirius XM, Music Choice, Spotify, IVybe Radio, Starpoint Radio, Jazz FM,YouTube and Apple Radio among many other global music platforms. Several songs from the BVE music catalog have been Top 30 hits on the prestigious UK soul charts and have also been Amazon Music/Soul Tracks CD top ten hits. Bey Bright attended Norfolk State University and is a graduate of American Inter Continental University where he possesses a degree in Business Administration & Management.