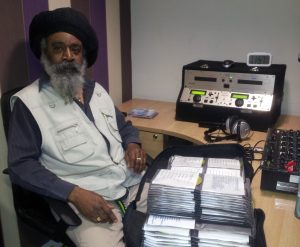 My musical journey started in Jamaica as a young person listening to ska music and in 1972, after I moved to England I started buying reggae records. In 1973, I started playing my home hi fi stereo at house and birthday parties, I was also the driver and roadie for a local music band (The Advengers).
In 1974, I joined a local sound system (Black Terror), where I became a part of that sound system family. Some of my roles were sound system van driver, box man, setting up the system, visiting various record shops and playing the system from time time. My musical ambitions just developed from those early years. In 1976, I and very close brethren started to promote dances within Hitchin, Letchworth and Bedford. In 2006, I joined a local radio station playing all different genres of Jamaican music which lasted until early 2013. In 2013, I joined floradio for a short time and returned to the station in February 2020, to present.
My roots and kulcha show consists of all Jamaican musical genre and reggae music from around the world, incorporating historical world history information to educate and entertain the listeners. The musical story of my life, give thanks.